Ready-to-drink TEA+ by Suntory PepsiCo Beverage (Thailand) Company Limited has continued to deliver a fun-filled consumer experience with refreshing flavor to please tea lovers during the summer season in Thailand by launching "TEA+ INTO THE SURPRISING WORLD" to introduce the new "TEA+ Honey Lemon" variant that features a uniquely rich taste of Oolong tea with a harmonious blend of honey lemon flavor that sensually appeals to every tea lover. Oolong TEA+ also teamed up with Famous actor and presenter Krissanapoom "JJ" Pibulsonggram, aka Jaylerr, to enhance engagement with next-generation consumers as well as provide fun and surprising experiences for tea lovers through a host of experiential marketing campaigns and activities. Tea lovers can enjoy a new, elevated tea drinking experience with the new TEA+ Honey Lemon through human senses comprising sight, taste, smell, and sound. TEA+ by Suntory PepsiCo Thailand is now ready to impress Oolong tea lovers with a wow experience in tea drinking through a truly unique, refreshing taste of Oolong tea leaves.
Mr. Anawat Sangkhasap, Chief Marketing Officer, Suntory PepsiCo Beverage (Thailand) Company Limited, said "this year TEA+ plans to expand its customer base to further cover younger generations and first jobbers, particularly those who love drinking a refreshing tea to freshen up the day and are looking for a new ready-to-drink tea that has a uniquely different flavor. Meanwhile, the summer is a time when consumers are looking for a refreshing summer drink to beat the heat and to make them feel refreshed. So, ready-to-drink tea play a key role in freshening up the day during the summer as the appetizing sour and sweet tastes of a honey lemon tea are significantly growing in popularity among consumers. Therefore, TEA+ decided to launch the new flavor 'TEA+ Honey Lemon', which is the first Oolong tea that features a honey-lemon flavor in the Thailand's ready-to-drink tea market. In addition, Suntory PepsiCo Thailand also officially appointed Krissanapoom 'JJ' Pibulsonggram as the first-ever presenter of the TEA+ ready-to-drink Oolong tea brand because he has a unique personality and characteristics of new-generation people with courage to choose the best things that are beneficial for themselves and can enliven their lives at the same time. The presenter will bring moments of happiness, liveliness and joyousness as well as helping to revitalize the ready-to-drink tea market during this summer. The company expects that consumers will experience of TEA+ Honey Lemon and be amazed by its unique flavor. We are ready to be the top-of-mind ready-to-drink tea in the future".
Mr. Junichiro Takata, Head of Marketing – Suntory Brands, Suntory PepsiCo Beverage (Thailand) Company Limited, provided details on the new TEA+ flavor, saying that "the TEA+ Honey Lemon features a harmonious blend of purely 100% Oolong tea with tantalizing tastes and aromas of honey and lemon. It is perfectly produced by using Setouchi Lemon from Japan. It has a very low sugar content at just 4.6 g. per 100 ml. and contains Oolong Tea Polymerized Polyphenols (OTPP), a natural substance extracted from Oolong tea leaves, resulting in a ready-to-drink Oolong tea with a harmonious flavor in which consumers can sense a mellow taste and an aroma essence of Oolong tea leaves once the TEA+ bottle is opened, helping to beat the heat in this summer. The new TEA+ Honey Lemon is now gradually available in the market with sizing 490-ml at 20 baht in wholesale and retail stores as well as 500-ml at 25 baht in convenience stores, supermarkets, hypermarkets and leading department stores nationwide".
TEA+ presenter Krissanapoom "JJ" Pibulsonggram said "I am delighted and feel a great honor to be a family member of ready-to-drink Oolong TEA+. I would like to thank Suntory PepsiCo Thailand for giving me an opportunity to represent the brand to communicate about the new refreshing flavor of TEA+ that has never been launched before. I have already experienced its taste and would like to say that I discovered a new Oolong tea drinking experience as TEA+ Honey Lemon has a surprisingly delicious taste. It gave me a wow taste experience and its flavor is beyond my expectation because it truly has an aromatic essence of Oolong tea leaves once the bottle is opened. It features sensory characteristics of sweet, sour, mellow and harmonious tastes. All in all, it is uniquely perfect and balanced. And I would like to suggest tea lovers and younger generations give it a try and you will fall in love with the new ready-to-drink TEA+ Honey Lemon like I did".
At the TEA+ INTO THE SURPRISING WORLD launch event, fun activities were held in five zones for interested consumers to experience the world of Oolong tea drinking in multiple dimensions through human senses comprising Sight, Taste, Smell, Sound, and Touch. All participants enjoyed a new tea drinking experience, unique flavor and quality characteristics of Oolong tea with entertainment by youth-favorite TEA+ presenter Krissanapoom "JJ" Pibulsonggram who sang hit songs to entertain the event and exclusively took part in games with his fans before wrapping up the launch event with a fun activity for engaged consumers to have the happy and joyous moments in style with TEA+ Honey Lemon.
For more information, visit Facebook: TEAPLUSTHAILAND or Instagram @teaplusth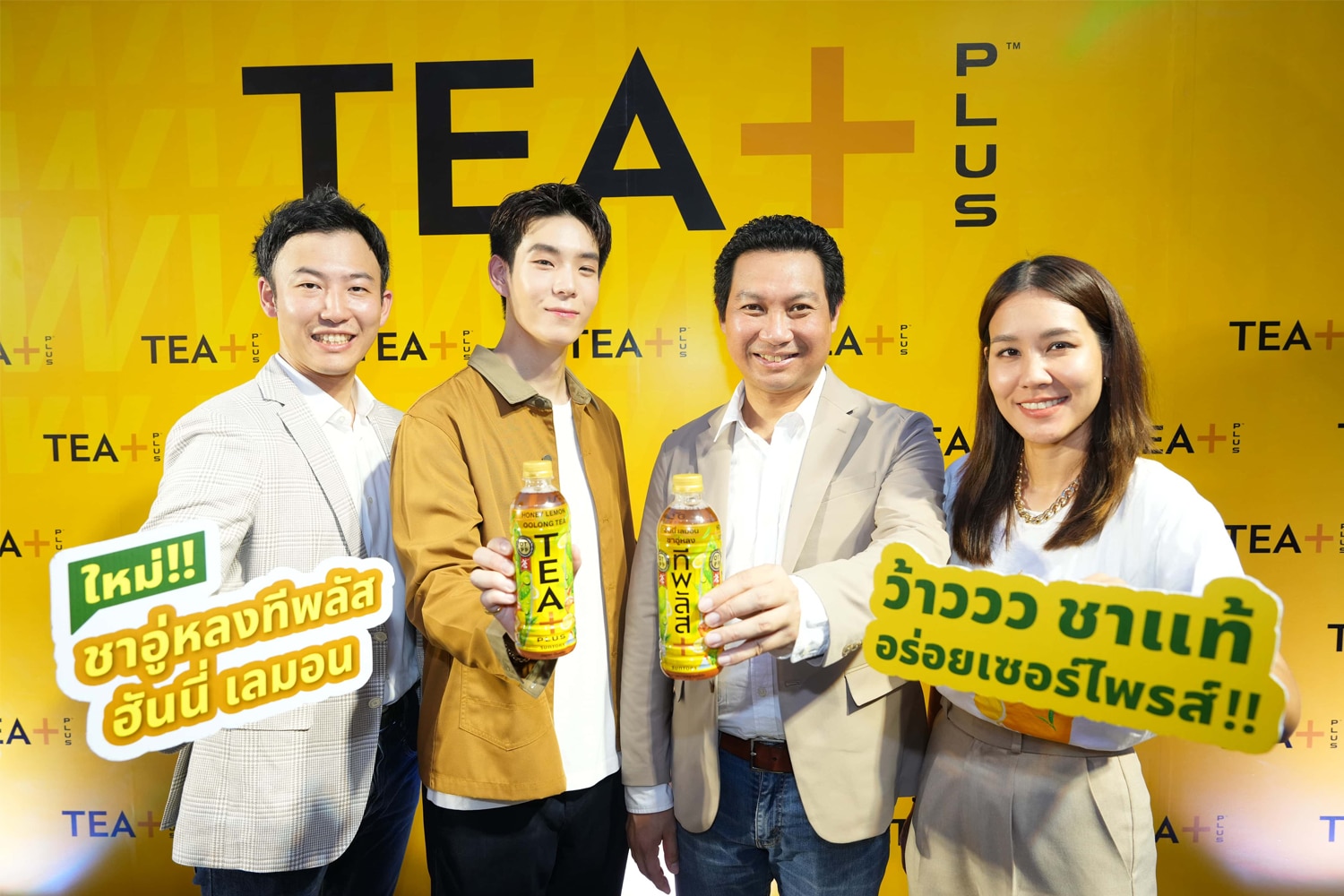 ข่าวประชาสัมพันธ์ถูกโพสต์ หรือเขียนขึ้นโดยเจ้าของข่าว ถูกโพสโดยบุคคลทั่วไป ในชื่อ: PR_888
ทางเวปไม่มีส่วนเกี่ยวข้องกับการเขียนข่าวหรือโพสต์ข่าวประชาสัมพันธ์ฉบับนี้ เว็บเป็นเพียงสื่อกลาง ที่เปิดให้เจ้าของข่าวประชาสัมพันธ์หรือตัวแทนโดยชอบธรรมได้โพสต์ด้วยตัวเอง