สินค้าแนะนำ:
ยกขบวนช้อปโปรปัง ลดราคาสินค้า

Flash Sale ประจำวันนี้ เริ่มต้นที่ 3 บาท
2 รอบต่อวัน 00:00น. | 12:00น.
ดูสินค้าลดราคา : http://bit.ly/JDFlasHSale
Nature's Sensation, a wide variety of fine dried fruits and natural juice brand by Heritage Group, offers special promotion on wide selections of premium fruit juice such as pomegranate juice, mixed berry juice, and prune juice. The products are available at THB130 deducted from THB150.
Get healthier and feel fresh this summer with Nature's Sensation's fruit juice rich in antioxidants, vitamins, fiber with no added sugar, colors, and preservatives. The promotion is valid until April 30, 2021 at The Heritage ICONSIAM. For more information, please call 02-813-0954-5 or follow the activities of Nature's Sensation at www.heritagethailand.com, www.facebook.com/naturessensationofficial, and IG: naturessensation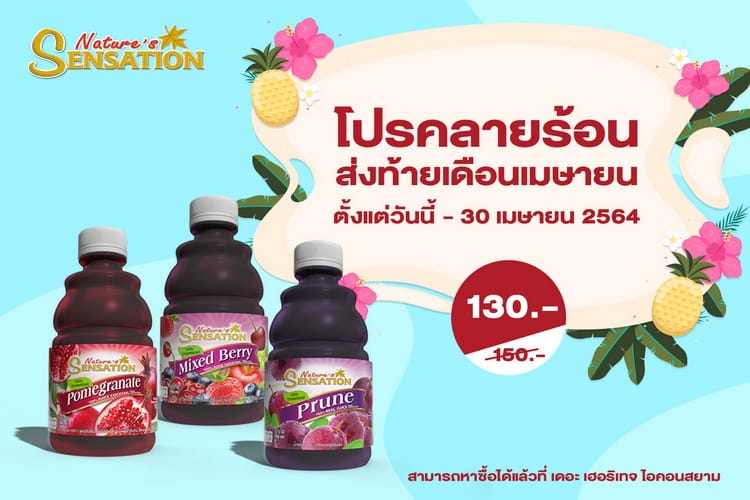 สินค้าแนะนำ:
LG แอลจี ตู้เย็น 2 ประตู ระบบ Inverter 14.2คิว รุ่น GN-B422SQCL ประหยัดพลังงาน กระจายลมเย็น คงความสดอาหาร

 

ลดเหลือ 10,790.-

จากปกติ 15,990.- ผ่อน 0% นาน 10 เดือน ส่งฟรี !!
สั่งซื้อ: http://j.mp/3ehIzst