Every Tuesday and Friday from 18.30-22.00 hrs. at The Similan Restaurant, Kantary Beach Hotel, Khao Lak, you can enjoy a special European-style set Dinner in a warm atmosphere with 2 sets to choose from. Set 1: start with Seared Tuna Salad with Honey Dressing or Asparagus Cream Soup with Almond Flakes followed by a main course of Grilled Pork Medallion with Mashed Potato and Red Wine Sauce or Skewer of Beef served with Baked Potato with B.B.Q. Sauce. Finish with the Ice Cream of the day. Set 2: start with Creamy Mushroom Bruchetta with Cheese or Tomato Soup with Garlic Bread then choose the deliciousness that tempts you for your main course between Fillet of Salmon served with Spinach and Lemon Cream Sauce or Grilled Breast of Chicken with Mashed Potato and Pesto Sauce and to end, a refreshing Ice Cream of the day at only 650++ Baht per person (Children under 12 receive a 50% discount.) There are also many delicious European à la carte items that you should not miss from now until 30 June 2023 (or until further notice).
For reservations, please contact Kantary Beach Hotel, Khao Lak on Tel: 076-584-700 or visit our website at: www.kantarybeach-khaolak.com
* Cape & Kantary Hotels reserves the right to make any relevant changes to this promotion which will be announced in advance via hotel's communication channel.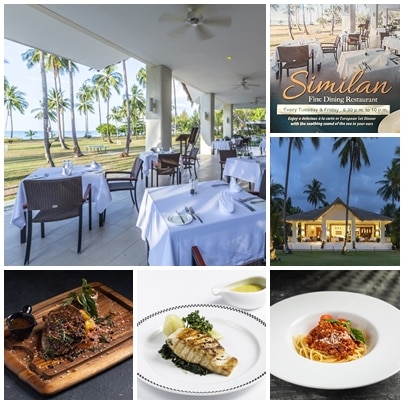 ข่าวประชาสัมพันธ์ถูกโพสต์ หรือเขียนขึ้นโดยเจ้าของข่าว ถูกโพสโดยบุคคลทั่วไป ในชื่อ: Cape & Kantary Hotels
ทางเวปไม่มีส่วนเกี่ยวข้องกับการเขียนข่าวหรือโพสต์ข่าวประชาสัมพันธ์ฉบับนี้ เว็บเป็นเพียงสื่อกลาง ที่เปิดให้เจ้าของข่าวประชาสัมพันธ์หรือตัวแทนโดยชอบธรรมได้โพสต์ด้วยตัวเอง