'Shopee', the leading ecommerce platform in Southeast Asia and Taiwan, wraps up a meaningful Shopee 11.11 Big Sale that brought more value and joy to Thai shoppers, and created a big digital boost for local businesses. On 11 November, shoppers turned to Shopee starting from midnight to access great deals and entertainment, with 8 times more items sold in the first 2 hours compared to an average day.
Suchaya Paleewong, Senior Marketing Manager, Shopee Thailand, said, "Shopee is delighted to celebrate another memorable 'Shopee 11.11 Big Sale' with our users. We are glad to see more shoppers and businesses benefit from this special day, as we keep making e-commerce more accessible to everyone. Shopee will continue to present attractive campaigns to meet the needs of Thai shoppers, as we wrap up the year in the month ahead."
Highlights for Shopee 11.11 Big Sale in Thailand
Drive sales for local brands and businesses
Shopee 11.11 Big Sale encouraged support for local brands and businesses through Shopee's ecosystem. Local sellers saw a large growth, with the top-performing seller experiencing 400 times sales increase compared to November 11 last year.
Brands on Shopee Mall continued to attract shoppers with exclusive deals at 11.11 Big Sale. Many shoppers also took this opportunity to stock up on a variety of items from home appliances to clothes and baby items. As a result, popular brands on Shopee Mall among shoppers were Samsung, P&G, MamyPoko, Xiaomi and Sabina.
Year-end trends among shoppers in Thailand
Top categories: Home & Living, Women Clothes, Baby & Toys were the most popular categories among shoppers. In particular, shoppers looked for Kitchen & Dining Room items, Plus Size Clothes and Toys, as Thais stocked up on their essential and personal needs.
Top keyword searches: Shoppers began to search for fashion and travel items to prepare for their year-end holidays. The most popular search terms included Crossbody bag, Sweater, Luggage and Bluetooth Headphones.
Meeting all lifestyle needs with ShopeePay and Shop Food
ShopeePay continues to help Thais users access secure and seamless digital payments. On 11 November, the number of orders paid with ShopeePay grew by 3 times compared to an average day.
ShopeeFood revealed that Papaya Salad, Noodles, Fruits were the most popular search terms on ShopeeFood. Top three food and beverages among foodies were Thai Tea, Pizza, and Roasted Duck during the 11.11 campaign. The most popular merchants on ShopeeFood were Lek Yhai Tom Yum Noodle, Aroi Chei Stir-fried basil on tray, Kuang Heng Pratu Nam Chicken Rice while top brands were KFC, Punthai Coffee and Pizza Company.
Continue shopping with Shopee Payday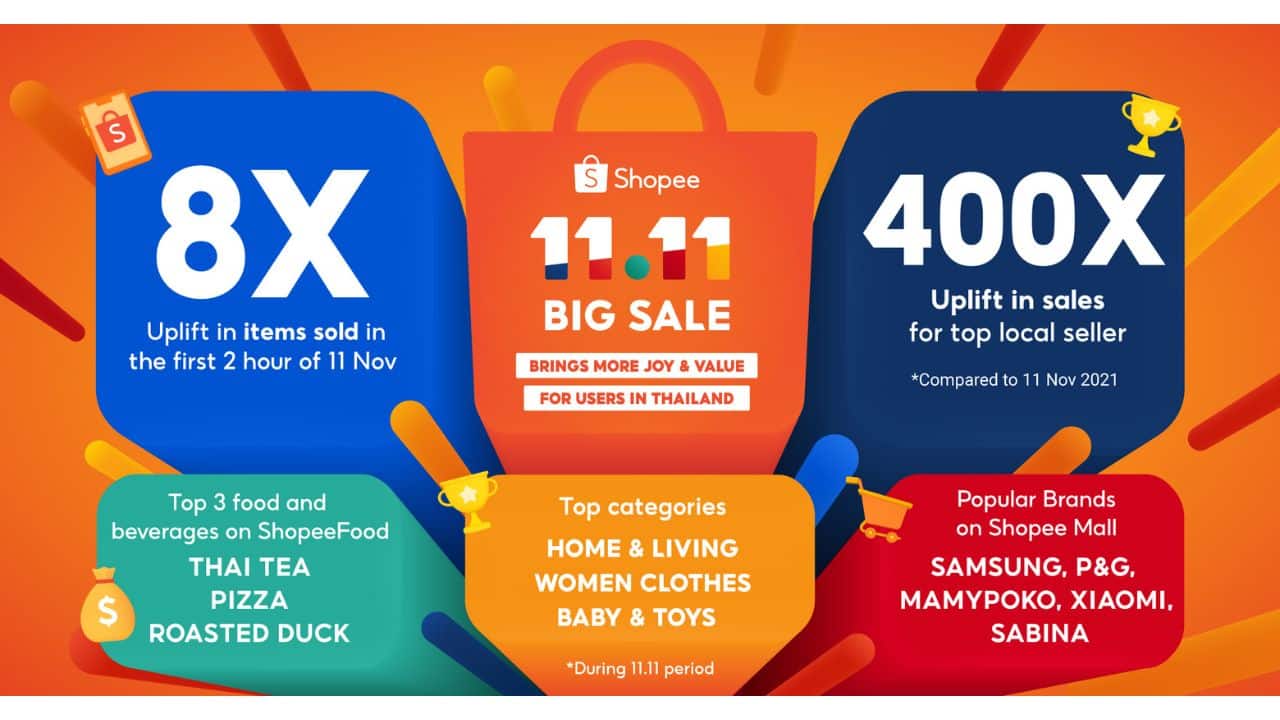 ข่าวประชาสัมพันธ์ถูกโพสต์ หรือเขียนขึ้นโดยเจ้าของข่าว ถูกโพสโดยบุคคลทั่วไป ในชื่อ: PR888
ทางเวปไม่มีส่วนเกี่ยวข้องกับการเขียนข่าวหรือโพสต์ข่าวประชาสัมพันธ์ฉบับนี้ เว็บเป็นเพียงสื่อกลาง ที่เปิดให้เจ้าของข่าวประชาสัมพันธ์หรือตัวแทนโดยชอบธรรมได้โพสต์ด้วยตัวเอง