Metro Connect Co., Ltd. and Hewlett Packard Enterprise Thailand arranged "2022 HPE Solution Day with MCC" presented the best products and solutions from HPE that manage IT Infrastructure with maximum flexibility and efficiency, include the solutions to protect against cyber threats on October 7th 2022 at Grand Ballroom, The Grande Center Point Hotel, Terminal 21. At the seminar, Mr. Varuch Rattanatumma (The third person from left), Assistant Vice President, Metro Connect Co., Ltd. honored to give the opening speech. There are a lot of expertise presented the solutions as follows:
Mr.Jirawit Duangkrajay (The second person from right), Product Specialist, Metro Connect Co., Ltd. addressed on the topic "dHCI Making it Ideal for Mission-Critical Databases and Datawarehouse" by presenting IT Infrastructure management that saves costs with high efficiency and quick installation. Able to select the Scale Out between Server or Storage as needed. However, it also able to work together perfectly on the overall of central system.
Mr. Touch Thonjurai (The first person from left) Storage Sales Specialist, Hewlett Packard Enterprise Thailand addressed on the Reliable Cloud Data Management and Protection for Hybrid, Multi-cloud by "Zerto". Offers the solutions, developed as a Persistent Data Protection Platform, or CDP, that combines disaster recovery, backup, and disaster recovery. Mobility support between On-Premises and Cloud under the same simple and easy data management. Protect data spanning across On-Premises, Hybrid Cloud, and Multi-Cloud systems. Saves resources and costs by using the entire Zerto software platform from HPE instead of a standalone solution.
Mr. Songchai Vachiravorakam (The second person from left), HPC & MCS Sales Specialist, Hewlett Packard Enterprise Thailand addressed on Unlock the Full Power by "High Performance Computing (HPC) & AI". Introducing the processing of a computer system that uses the resources of the computer in all parts for maximum efficiency, with less time on Big Data mathematical processing.
Mr. Natthaphon Phonprasertkul (The third person from right), Senior Presales Manager, Metro Connect Co., Ltd. addressed on "Cohesity" Protect your Backup Against Ransomware Attacks and Next-Gen Data Management. Discussed on how to keep customer data safe from cyber threats and introduced HPE Cohesity, the Ultimate Data Management Solution. Make it easier to protect and repurpose your enterprise data for maximum business outcomes.
Mr. Passapong Pangsee (The first person from right), Solution Architect for Metro Cloud, Metro Connect Co., Ltd. addressed on Metro Cloud's Modernize Application Management by "HPE": talking about the Cloud Platform that Metro Connect has built to provide services to customers using HPE solutions. Emphasizes the flexibility design that able to connected to various Cloud Platforms in various ways, respond quickly to the business systems.
Metro Connect Co., Ltd. is the official distributor of HPE. Trusted by HPE as part of expanding the market to business partners to meet the needs of various information management. Including consulting and sharing on knowledge and expertise to business partners in order to develop and expand solutions that meet current market needs.
For more information: https://www.metroconnect.co.th/products/hpe-hardware/ Call: 02-089-4880 email: mktmcc@metroconnect.co.th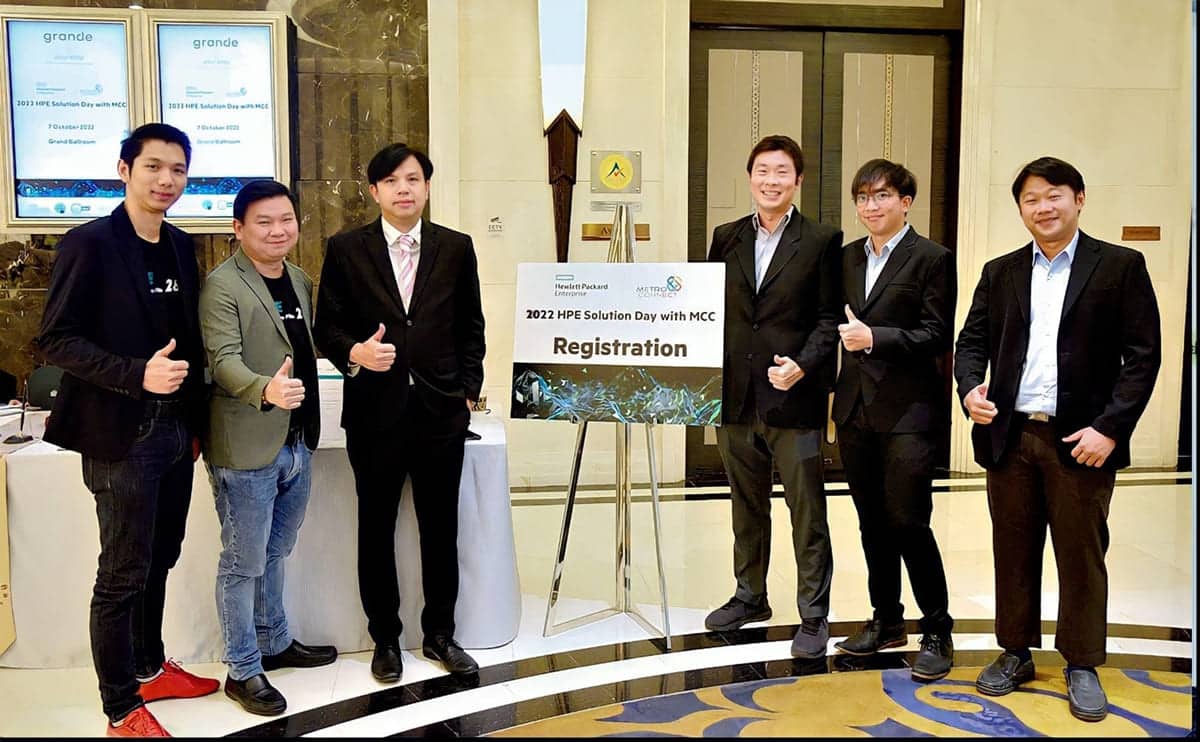 ข่าวประชาสัมพันธ์ถูกโพสต์ หรือเขียนขึ้นโดยเจ้าของข่าว ถูกโพสโดยบุคคลทั่วไป ในชื่อ: MSC
ทางเวปไม่มีส่วนเกี่ยวข้องกับการเขียนข่าวหรือโพสต์ข่าวประชาสัมพันธ์ฉบับนี้ เว็บเป็นเพียงสื่อกลาง ที่เปิดให้เจ้าของข่าวประชาสัมพันธ์หรือตัวแทนโดยชอบธรรมได้โพสต์ด้วยตัวเอง