Metro Connect Co., Ltd or (MCC) joined with Hewlett Packard Enterprise (Thailand) or (HPE) arranged "The Evolving Landscape of Data Storage Trends and Technologies" on June 23rd, 2023, at Regency Ballroom III&IV, Hyatt Regency Bangkok Hotel Sukhumvit. Mr. Varuch Rattanatumma (2nd from right), Assistant Vice President, Metro Connect Co., Ltd opened remarks and gave a warm welcome. There are experts described the solutions as various solutions as follows:
Mr. Wittaya Wongvachirapanich (1st from right), Storage Product Manager, Hewlett Packard Enterprise (Thailand) addressed on "GreenLake for Data Service and Block New Platform". Mr. Wittaya shared the cloud experience on the HPE GreenLake platform, taking care of it from edge to cloud and announced the latest HPE GreenLake Storage service. From now on, customers can choose more flexible licensing models, whether it's OpEx or CapEx, which makes it suitable to meet business needs. Furthermore, introduced Scale-Out Block Storage, the first scale-out storage on the market that can be detached into module, built up to facilitate more storage capacity depending on the needs of an enterprise including:
• Transform faster with a cloud operational as if using On-Prem
• Being able to scale-out storage, gives organizations the flexibility to control costs as their needs expand.
• Work on various application without sacrificing performance. 100% market data availability guarantee.
Mr. Nattaphon Phonprasertkul (1st from left), Senior Presales Manager, Metro Connect Co., Ltd addressed on "Enhanced Data Protection: Improve Your Data Protection Capabilities". Offers enhanced capabilities and performance to protect critical data in response to cyber threats, since it targets and impact of cyber attack on present business. HPE Cohesity helps backup data. Prevent threats and anomaly detection. Monitor user behavior Data is protected by the Zero-Trust. Including strict access control, able to recover data quickly which will help the organization can effectively deal with cyber threats.
Ms. Pennapa Dechcharoensri (middle), Assistant Product Sales Specialist, Metro Connect Co., Ltd talked about "Get Rewarded with HPE ENGAGE & GROW". Introducing benefits and promotions for partners of Metro Connect Co., Ltd and Hewlett Packard Enterprise (Thailand).
Metro Connect Co., Ltd. (MCC) is the official distributor of Hewlett Packard Enterprise (Thailand). MCC has been entrusted to support partner companies in expanding the market by creating solutions to meet rapidly changing technology. Including supporting and passing on expertise to partner companies. Developing and extending solutions that meet the needs of the current market.
For more information visit: https://www.metroconnect.co.th/products/hpe-hardware/ or ask for more product information, contact the marketing department. Tel.02-0894880 Email: mktmcc@metroconnect.co.th Website: https://www.metroconnect.co.th/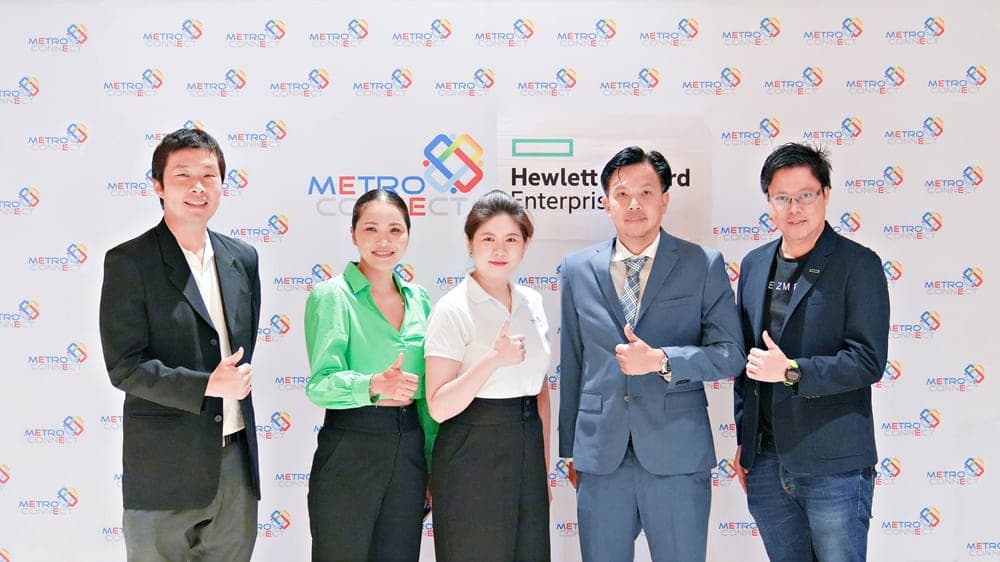 ข่าวประชาสัมพันธ์ถูกโพสต์ หรือเขียนขึ้นโดยเจ้าของข่าว ถูกโพสโดยบุคคลทั่วไป ในชื่อ: MSC
ทางเวปไม่มีส่วนเกี่ยวข้องกับการเขียนข่าวหรือโพสต์ข่าวประชาสัมพันธ์ฉบับนี้ เว็บเป็นเพียงสื่อกลาง ที่เปิดให้เจ้าของข่าวประชาสัมพันธ์หรือตัวแทนโดยชอบธรรมได้โพสต์ด้วยตัวเอง