Mr.Tanit Chearavanont Chief Executive Officer – Makro Thailand said that online business and e-commerce increasingly play significant roles in the digital era. Makro also has been developing its O2O business to serve all professional customer needs. The company, therefore, launches 'Makro PRO' application to offer best customer experience and aim to grow 88% of its e-commerce business.
"Makro is committed to being an omni-channel wholesale leader, where online and offline service seamlessly integrated. Having 34 years of experience and strength in fresh food products along with a nationwide service network, the newly introduced mobile application would be a great platform to offer good variety of over 50,000 products, great value, best customer experience and opportunity for small business operators to have marketplace to build sustainable growth together with Makro," Mr.Tanit added.
Mr.Tirayu Songvetkasem Group Chief Digital Officer – Makro Wholesale Business, said that our expertise in retail and customer insights help us to develop 'Makro PRO' application to meet all demands as a professional platform.
Mr.Tirayu also commented that 'Makro PRO' would be able to become a top-of-mind application among Thai business operators with its five strengths.
1. Seamless Omni Channel: This allows offline Makro stores to get seamlessly connected with online in all aspects to drive the business.
2. New Loyalty Program: 'Makro PRO POINT' has been developed to be the most preferred loyalty program for business operators. The customer will earn one point for every 1,000 baht spent. Each point can be used for a one-baht discount and other benefits.
3. Enhance Omni-Channel Efficiency: 'Makro PRO' app provides on-time delivery, and a convenient ordering experience to help increase business efficiency. Customers can choose 3 delivery times slots that suitable for different business.
4. Data-Driven Approach: The new app is driven by data analytics from in-depth customer insights so that it could provide customized and personalized promotion and service to the customers.
5. All-in-One Business Supercharging Platform: 'Makro PRO' app will be a platform to offer a great opportunity for all business operators at their fingertips. This platform provides business solution, efficient & convenient purchase for all customers while they can collect their reward points.
Makro, Thailand's leading wholesaler also introduces its first presenter, Thai-Norwegian actress Urassaya "Yaya" Sperbund to create awareness and a phenomenal marketing campaign.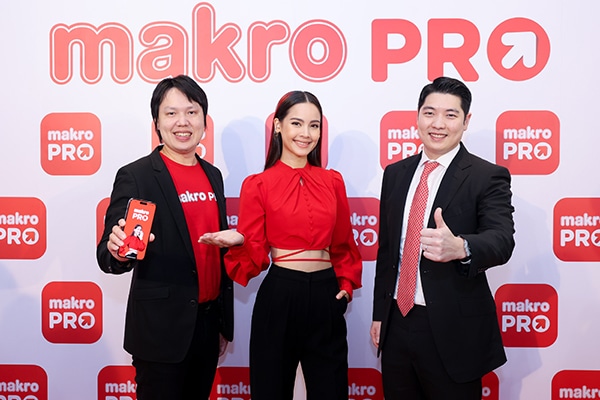 ข่าวประชาสัมพันธ์ถูกโพสต์ หรือเขียนขึ้นโดยเจ้าของข่าว ถูกโพสโดยบุคคลทั่วไป ในชื่อ: Makro
ทางเวปไม่มีส่วนเกี่ยวข้องกับการเขียนข่าวหรือโพสต์ข่าวประชาสัมพันธ์ฉบับนี้ เว็บเป็นเพียงสื่อกลาง ที่เปิดให้เจ้าของข่าวประชาสัมพันธ์หรือตัวแทนโดยชอบธรรมได้โพสต์ด้วยตัวเอง