Taiwan Excellence proudly presents the highly anticipated "Taiwan Excellence Pop-up Store in Thailand" a celebration of exceptionally high-quality and innovative products from renowned Taiwanese manufacturers. Located at Central Court, 1st floor, Central World, this remarkable event began with a grand opening ceremony on June 23 and will continue to captivate visitors until June 25.
The "Taiwan Excellence Pop-up Store in Thailand" features 29 Taiwanese enterprises representing various industries, exhibiting their outstanding products and cutting-edge technologies in areas such as ICT and electronics, sports and leisure, lifestyle, and healthcare. It is worth noting that many of these products align with the principles of the Bio-Circular-Green (BCG) economy in promoting environmentally friendly solutions. Leading brands like O'right, ASUS, PAPER SHOOT, and Inventec proudly present the best of their offerings, allowing visitors to explore a diverse range of products. Some examples include Johnson's @Mirror (Intelligence workout mirror) for real-time home fitness workouts, MiTAC's advanced driving recorders for automotive electronic solutions as well as Aromas, a respected Taiwanese hair product brand. All serve as prime examples of Taiwan's commitment to green manufacturing, further demonstrating our dedication to sustainable practices.
The opening ceremony was attended by prominent artists and celebrities, including Nadol Bonz Lamprasert, Siwat Mark Jumlongkul, and Note Panayanggool, who all provided valuable insights into Taiwan Excellence award-winning brands. The event was also blessed by the presence of Taiwanese government officials and representatives from a number of Thai organizations, further enhancing the significance of the occasion.
 Hsueh, Hsiu-Mei, Deputy Representative of the Taipei Economic & Cultural Office in Thailand, elaborated the origin and achievements of the Taiwan Excellence Award and praised the quality and design of the products that received the award.The outstanding products showcased this time include the Asus VIVO Watch SP, VAGO Z portable vacuum compressor, and Johnson@Mirror (Intelligence workout mirror). These products demonstrate the leading position of Taiwanese companies in technological research and development as well as design innovation. After the beginning of the US-China trade dispute, more and more Taiwanese companies are investing in Thailand. The rapid increase of investment from Taiwanese companies provides more opportunities and room for cooperation between our enterprises. Economic and trade cooperation between us is also rapidly intensifying. We should grasp this golden opportunity and build even closer win-win partnerships and stronger relationships.
 Mr. Max Chang, Director of the Taiwan Trade Center, Bangkok, a branch of TAITRA, emphasized that Taiwan Excellence represents top quality and creativity, and has been internationally recognized as the epitome of innovation in Taiwanese products, earning itself the reputation of being the "Oscars" of Taiwanese industry.
 Mr. Jiraphant Asvatanakul, Vice Chairman of Thai Chamber of Commence expressed his gratitude to the Taiwanese government for hosting the event and showcasing a wide range of wonderful products. They expect the event to serve as a sustainable bridge that strengthens ties between Thailand and Taiwan in terms of the economy, tourism, and culture, thereby creating greater business growth opportunities.
We warmly invite you to join us for the remaining two days (June 24-25) of this exciting event. Immerse yourself in captivating workshops, participate in fun games, and capture unforgettable moments with our interactive photo tagging activities. Don't miss the opportunity to experience the best of Taiwan Excellence alongside famous influencers Juny JomKan, Gun Napat Na Ranong, and popular streamer Eak HybridX.
Admission is free, and no advanced registration is required for attendees. However, for business operators and entrepreneurs interested in the business matching session, we recommend pre-registering at the Taiwan Trade Center, Bangkok through the website: https://bangkok.taiwantrade.com/news/detail?id=34258. Alternatively, you can contact Ms. Napat at +66(2)6514470 or napat@taitra.org.tw.
For more information about the Taiwan Excellence Pop-up Store in Thailand, please visit the event website at https://www.taiwanexcellence.org/th/press/events/1017. Stay updated on the latest news and details on the Taiwan Excellence TH Facebook page at https://www.facebook.com/TaiwanExcellence.TH.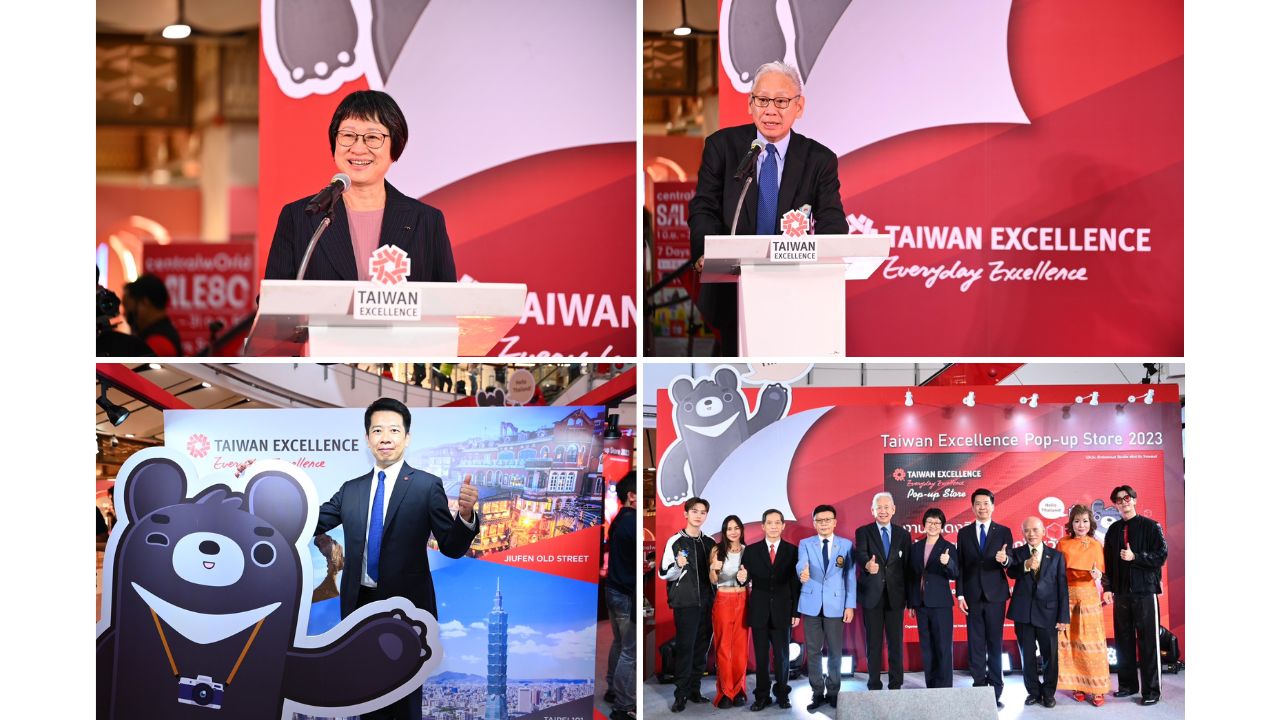 ข่าวประชาสัมพันธ์ถูกโพสต์ หรือเขียนขึ้นโดยเจ้าของข่าว ถูกโพสโดยบุคคลทั่วไป ในชื่อ: PR888
ทางเวปไม่มีส่วนเกี่ยวข้องกับการเขียนข่าวหรือโพสต์ข่าวประชาสัมพันธ์ฉบับนี้ เว็บเป็นเพียงสื่อกลาง ที่เปิดให้เจ้าของข่าวประชาสัมพันธ์หรือตัวแทนโดยชอบธรรมได้โพสต์ด้วยตัวเอง