From now until 30 June 2023, "Panwa House" Thai Restaurant at Cape Panwa Hotel, Phuket, invites you and your family to a beautifully antique Sino-Portuguese 2-storey mansion to enjoy a precious evening with family or someone special on the palm-fringed white-sand beach in a romantic and unforgettable moment. The restaurant features delicious and creative Thai signature dishes using only premium ingredients with the delicious taste of Authentic Thai cuisine from a 5-star hotel chef.
The Enchanted Thai signature dish experience features "Neua Poo Phad Prik Thai On" Sautéed Crab Meat With Green Peppercorns (THB 360++); "Choo Chee Koong" Stir-fried Prawns Topped with Curry Paste (THB 290++); "Pla Kapong Tom Yam Haeng" Sea Bass Fillet with Straw Mushroom, Lemongrass, Galangal and Chilli Sauce (THB 390++); "Kanom Jeen Nam Ya Poo" Rice Vermicelli in Fish Curry Crab Sauce (THB 290++); "Kai Hor Bai Toey" Deep-fried Marinated Chicken Wrapped in Pandanus Leaf (THB 230++); "Bua Loy Kai Warn" Dumplings in Coconut Cream with Egg (THB 180++); "Khao Neow Mamuang" Mango with Sticky Rice and Creamy Coconut Milk Topping (THB 230++) and many more delicacies waiting for you to come and try.
Moreover, you can enjoy Thai Dinner "Chef's Set Menu" in 2 choices of platters "BKK Platter" with Tom Yam Talay (Spicy Thai Soup with seafood, mushrooms and Lemon Grass), Kaeng Phet Ped Yang (Roasted Duck in Red Curry with Grapes Tomato and Pineapple), Yam Phak Boong Krob (Crispy Morning Glory Spicy Salad with Prawn and Minced Chicken), Kai Hor Bai Toey (Deep-fried Marinated Chicken Wrapped in Pandanus Leaf), Thod Man Goong (Deep-fried Shrimp Cakes) and Steamed Rice; and "SouthernPlatter" with Poo Phad Phong Curry (Stir-fried Crab with Curry Powder), Koong Thod Sauce Makham (Fried Tiger Prawns with Tamarind Sauce), Gaeng Som Pla Kab Yod Ma Praw On (Sour Soup with Thai Fish and Young Coconut Shoots), Nam Prik Koong Seab (Smoked Shrimps with Spicy Shrimp Paste Served with Vegetables), Pla Thod Takhai (Deep-freid Fish with Lemongrass) and Steamed Rice. Each platter offers more choices of appetisers, choices of desserts and also includes a choice of Beverages at only THB 1400++ per set.
*Special every Saturday: a variety of delicious choices of "Thai Cuisine Buffet Dinner" from 18.30-22.00 hrs. (Entertainment from 19.30-20.30) at only THB 950++ (Children under 12 receive a 50% discount)
Available for dinner every Tuesday-Sunday (closed on Monday) from 18.30-23.00 hrs. For more information or reservations, please contact Cape Panwa Hotel, Phuket Tel: 076 391 123 or visit our website at https://www.capepanwa.com/panwahouse/
* Cape & Kantary Hotels reserves the right to make any relevant changes to this promotion
which will be announced in advance via hotel's communication channel.
###############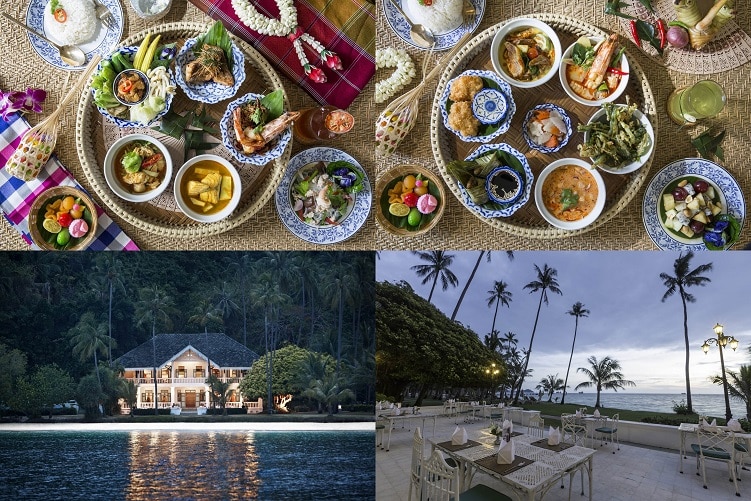 ข่าวประชาสัมพันธ์ถูกโพสต์ หรือเขียนขึ้นโดยเจ้าของข่าว ถูกโพสโดยบุคคลทั่วไป ในชื่อ: capekantaryhotels
ทางเวปไม่มีส่วนเกี่ยวข้องกับการเขียนข่าวหรือโพสต์ข่าวประชาสัมพันธ์ฉบับนี้ เว็บเป็นเพียงสื่อกลาง ที่เปิดให้เจ้าของข่าวประชาสัมพันธ์หรือตัวแทนโดยชอบธรรมได้โพสต์ด้วยตัวเอง