Eclipse Quest, an NFT game developed by Thai native Bugblio Studio, was crowned the winner of The Game Maker competition at Thailand Game Show 2022 and named The Most Popular Game-Fi Project from the Block Culture Award at Thailand Comic Con 2022 x Festiverse, solidifying further the community's confidence in the game's excellence. The game is currently available for demo play alongside an abundance of activities via Eclipse Quest's official channels.
"The Eclipse Quest team would like to express our gratitude to the visionary event organizers, whose aspiration to support Thai developers to greater heights provided us the opportunity to showcase our game at nationally acknowledged stages such as the Thailand Game Show and Thailand Comic Con x Festiverse", said Mr. Maythee Chauypoo, CEO of Bugblio Studio and Games and Interactive Media lecturer at the School of Information Technology and Innovation, Bangkok University.
"Most of us might not be aware that while the gaming industry in Thailand is valued at a staggering 30,000 million BHT (approx. 780 million USD), natively Thai games accounted for a mere 1% of the market share", Mr. Maythee continued. "Our country is not scarce of creative and talented developers, but we lack access to the relevant knowledge, financial support, and much required opportunities for exposure."
"We extend our appreciation to everyone involved from the private sector that helped propel Thailand's gaming industry forward today. We know for a fact that there are many other local game studios out there with amazing titles waiting for that one push, and hope to see Thai game developers in major pavilions in both the Thailand Game Show and Thailand Comic Con again in the years to follow", Mr. Maythee added.
What is Eclipse Quest?
Eclipse Quest is an Action-Adventure, Dungeon Crawler NFT game with adorable artwork, where players embark on an epic adventure to conquer dungeons in a fantastical world.
The team gathered artists, designers, and engineers highly experienced in the production of Action Battle Royale games like Ragnarok: Battle Academy (ROBA) to deliver the best results for anticipating gamers.
The Game Maker Project
Eclipse Quest was awarded 1st Place in The Game Maker project, a game design and developing competition that gave developers from across the nation a chance to pitch their project to Terosoft, a leading Web 3.0 tech company of Thailand, in the biggest stage of the year at Thailand Game Show. The team behind The Game Maker acknowledges games, with its ever growing popularity and accessibility, as the next entertainment media, and strives to produce fun, creative games that can compete at a global scale with Terosoft's support.
The Block Culture Award
The Block Culture Award is first presented this year at the Festiverse, Thailand Comic Con 2022. Fans and enthusiasts cast votes on Web 3.0 projects they are most interested in, and prizes, along with inherent recognition, are given to projects with the highest votes.
Eclipse Quest is awarded the MOST POPULAR THAI GAME-FI PROJECT, earning itself another trophy in recognition of its success.
Eclipse Quest brings back the nostalgic, story-driven dungeon crawler experience. Players must survive the seemingly endless onslaught from monsters, navigate through maps, while collecting items and materials to craft better upgrades and ultimately earn the recognition they deserve. The game will feature co-op, PVP arena, and even territory capture modes in collaborative faction wars.
Follow Thailand's award-winning game, Eclipse Quest, today via the following channels:
Eclipse Quest Official Channels
● Facebook: https://www.facebook.com/EclipseQuestGame
● Discord: https://discord.gg/WgxXqR59qx
● Instagram: https://www.instagram.com/eclipsequest_game/
● Telegram: https://t.me/eclipsequest
● Twitter: https://twitter.com/Eclipse_Quest
● YouTube: https://www.youtube.com/channel/UCbfiutVagk2jNpoBjycRQLQ
● Website: https://www.eclipsequest.bugbliostudio.com/
● Whitepaper: https://doc.clickup.com/…/d/h/rdz7j-1402/11de297c0892786
About Eclipse Quest
● Developer: BugBlio Studio
● Genre: Action-Adventure, Dungeon Crawler, Collectible NFT
● Game PV
#eclipsequest #bugbliostudio #NFTGame #blockchaingame #ActionGame #actionadventure
#TheGameMaker #TGS2022 #ThailandGameShow2022
#BlockcultureAwards #ThailandComiccon #TCC2022 #Festiverse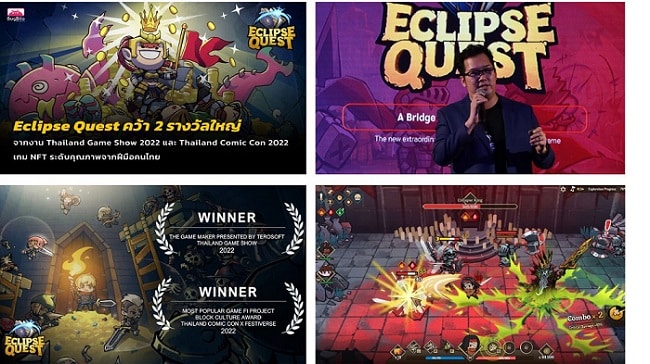 ข่าวประชาสัมพันธ์ถูกโพสต์ หรือเขียนขึ้นโดยเจ้าของข่าว ถูกโพสโดยบุคคลทั่วไป ในชื่อ: บริษัท ทริปเปิล เอท ไอเดียส์ จำกัด
ทางเวปไม่มีส่วนเกี่ยวข้องกับการเขียนข่าวหรือโพสต์ข่าวประชาสัมพันธ์ฉบับนี้ เว็บเป็นเพียงสื่อกลาง ที่เปิดให้เจ้าของข่าวประชาสัมพันธ์หรือตัวแทนโดยชอบธรรมได้โพสต์ด้วยตัวเอง