DER MOND, the Thai-owned fine jewelry house that has been dazzling clients for over three decades, is renowned for its impeccable craftsmanship and use of the highest quality diamonds. With a global presence across Asia, Australia, and the Middle East, DER MOND has firmly established itself as a leading jewelry house. However, the brand is now embracing a new perspective on luxury, one that goes beyond status symbols and focuses on self-expression and sentimental value.
Gone are the days when fine jewelry was solely a marker of social standing. DER MOND believes that jewelry should be an extension of one's personality and a symbol of love, meant to be cherished and passed down through generations. This fresh outlook has led to a reimagining of diamond jewelry design, catering to today's lifestyle and allowing everyone to indulge in the joy of wearing exquisite pieces. DER MOND's latest collection not only showcases their mastery in craftsmanship but also encourages wearers to have fun, embrace their unique style, and create lasting memories.
According to Sirapat Pipatveeravat, the Creative Director of DER MOND, this shift in perspective is a reflection of changing times. "Luxury, in the eyes of DER MOND, is no longer defined by old-fashioned conventions. It is about the freedom to express oneself, to be true to who we are, and to embrace our individuality. With their concept of 'Reimagine Luxury,' DER MOND aims to highlight the wearer's identity, lifestyle, and personal style while maintaining the brand's legacy of crafting timeless treasures that seamlessly fit into any modern lifestyle. Our vision is to transform fine jewelry into a symbol of self-expression and love that can be enjoyed every day."
DER MOND's contemporary designs strike a perfect balance between functionality and creativity. Meticulous attention to detail ensures that each jewelry piece not only exudes beauty but also instills confidence in the wearer, becoming a coveted collector's item to be cherished across generations.
Discover the collections inspired by the "Reimagine Luxury" concept.
• ABSOLUTE DECO COLLECTION: Inspired by the opulence of the Art Deco era, this collection represents the pinnacle of high jewelry craftsmanship. DER MOND's designers have artfully blended jewelry and architectural designs from that era, creating an elegant and luxurious collection that enhances the wearer's uniqueness. Notably, several pieces from this collection have been featured in the prestigious Rolls Royce Year Books.
• DECO ELEMENT COLLECTION: DER MOND's iconic collection draws inspiration from Art Deco elements and infuses them with a modern, simple, and playful twist. These pieces can be mixed and matched beautifully for any occasion, adding a touch of luxury and elegance.
• CHIC COLLECTION: Uniquely chic, this collection features various shapes of fancy diamonds meticulously arranged to create stunning diamond lines. The designs are simple yet exude modernity in their own charming way.
DER MOND also offers classic jewelry that combines simplicity with refinement, elegance, and exquisite details. Whether it's a band ring, a tennis bracelet, or hoop earrings, these timeless pieces reflect the wearer's personality with modern flair. The Fancy Eternity design featuring an array of diamonds with fancy shapes, adds a playful twist to the classic collection, making it a versatile must-have item.
• Tennis Bracelet
• Fancy Eternity
For those embarking on a journey of love, DER MOND's bridal jewelry collection is the epitome of meticulousness and perfection. Each engagement ring is crafted with extraordinary attention to detail, ensuring the ideal proportions and featuring exquisite center diamonds chosen according to the owner's preferences. With more than 2,800 pairs of engagement rings created in their 31-year history, DER MOND strives to provide an exceptional buying experience for every client. The goal is to impress and guide couples through one of life's most significant decisions, offering not just rings but precious heirlooms to be treasured for generations.
Mr. Sirapat expressed his desire to make fine jewelry more accessible and enjoyable for everyone. He believes that everyone should have the freedom to wear fine jewelry daily, expressing their unique style without any hesitation. DER MOND aims to create cherished memories through their exquisite pieces, inspiring a new generation to embrace the beauty of diamonds. By continuously evolving and pushing boundaries, DER MOND is committed to delivering a luxury experience that is relaxed, boundary-breaking, and unforgettable. Through innovative product designs, versatile styling options, comprehensive product knowledge, and exceptional customer service, DER MOND aims to make fine jewelry an enjoyable and accessible part of everyone's lives.
About DER MOND:
Founded in 1992 by Soonthorn Pipatveeravat and Saisamorn Pipatveeravat, DER MOND traces its roots back to generations of diamond and gem traders known for their commitment to quality and exceptional service. Today, the second-generation heirs, Sirapat Pipatveeravat and Supasinee Aungkajornkul, continue the family legacy by focusing on product and service quality, design development, production techniques, and communication. DER MOND believes that jewelry is not merely an accessory but a unique item that expresses individuality and captures meaningful memories.
Sirapat, armed with a background in architecture and business management, brings a wealth of experience to the brand's expansion, constantly striving for perfection in every aspect of DER MOND 's creations. With four branches located at Siam Paragon, Seacon Square – Srinakarin, Mega Bangna, and Central Pattaya Beach, DER MOND welcomes jewelry enthusiasts to explore their world of elegance and sophistication.
For more information about DER MOND, please visit their Facebook page at https://www.facebook.com/dermondjewelry/ or follow them on Instagram at https://www.instagram.com/dermond_jewelry/. You can also visit their official website at https://www.dermond.co.th/.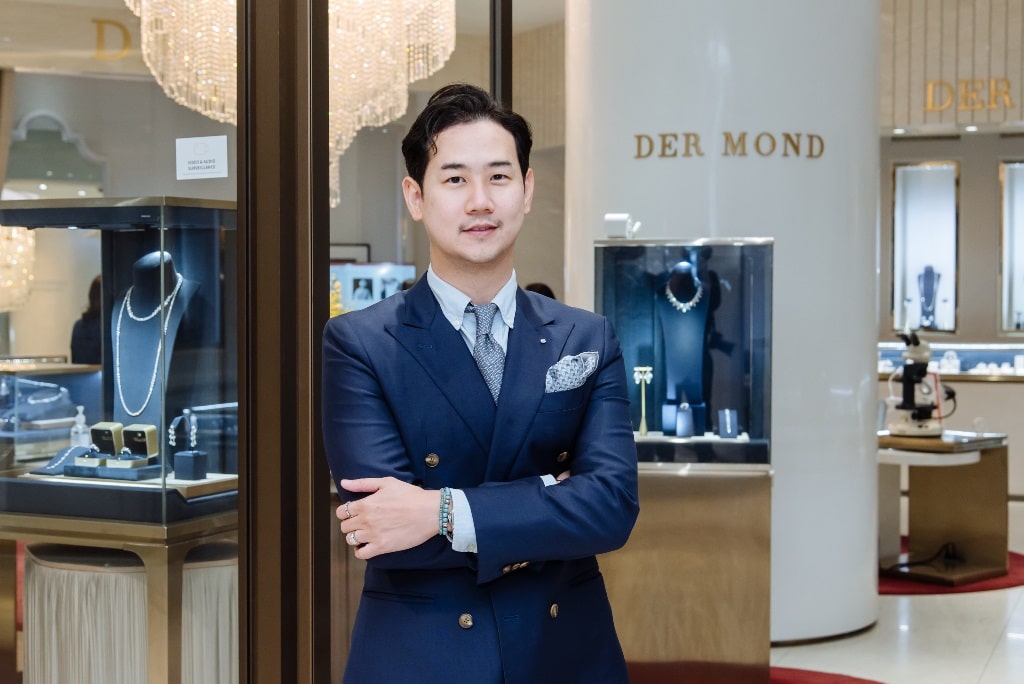 ข่าวประชาสัมพันธ์ถูกโพสต์ หรือเขียนขึ้นโดยเจ้าของข่าว ถูกโพสโดยบุคคลทั่วไป ในชื่อ: DER MOND
ทางเวปไม่มีส่วนเกี่ยวข้องกับการเขียนข่าวหรือโพสต์ข่าวประชาสัมพันธ์ฉบับนี้ เว็บเป็นเพียงสื่อกลาง ที่เปิดให้เจ้าของข่าวประชาสัมพันธ์หรือตัวแทนโดยชอบธรรมได้โพสต์ด้วยตัวเอง