Digital Economy Promotion Agency (depa) held "Thailand Digital IP Forum 2023" to raise awareness and promote better understanding about intellectual property (IP). The forum shared fundamental knowledge on IP protection rights in the digital economy and discussed how to effectively file a patent application in order to secure a digital patent. Other highlighted topics included intellectual property and development of the gaming industry, achieving a fundraising from intellectual property rights, and intellectual property management on the futuristic Metaverse platform. The forum featured Thailand's top gurus, experts, well-recognized professionals in intellectual property. The Department of Intellectual Property and the country's leading legal consulting firms also teamed up to launch an IP advisory clinic, which is regarded as a key mechanism to promote correct IP knowledge and foster development of innovations for commercial purposes in order to steer Thailand towards a digital economy in a sustainable manner.
Asst. Prof. Dr. Nuttapon Nimmanphatcharin, President/CEO of depa, said the advanced technology and innovation currently play a key role in driving growth of the economy and society. Technological innovations can lead to new businesses and bring about changes to consumer behavior. They have an industry-wide impact and create challenges in the intellectual property protection and the way of taking advantages of IP rights.
depa has a commitment to promoting submission of patent and petty patent applications among digital business operators as depa has provided support and incentives through the "depa Intellectual Property Voucher" to facilitate IP applications to secure a patent or petty patent protection for their digital products and innovations. The IP voucher scheme will encourage small tech businesses to develop new technologies and innovations and apply for patent and petty patent protection. The initiative will lead to an elevated economic competitiveness as businesses will gain further knowledge and better understanding of IP rights and protection. All relevant agencies and stakeholders in society will have more confidence in the digital economy and the digital industry of Thailand.
The Ministry of Digital Economy and Society (MDES) and the Digital Economy Promotion Agency (depa) have always prioritized passing on knowledge about intellectual property rights and protection as well as applications for patents and petty patents. Therefore, the depa held Thailand Digital IP Forum 2023 with a goal to promote correct understanding and raise awareness about the importance of intellectual property protection for digital products and services.
"Digital patent applications in Thailand were submitted by foreign digital developers and innovators. A majority of IP applications ever filed were about the expansion of their existing IP protection in foreign countries so as to cover its patent protection in Thailand. depa considers that it is an urgent need to encourage Thai tech entrepreneurs to recognize the importance of intellectual property rights and protection and how to make the most of patents and petty patents related to digital technologies and innovations. Also, depa has focused on promoting research and development for commercial purposes so that the number of Thai digital patents for innovating technological innovations and solutions will increase. depa has continuously supported Thai tech companies in filing for intellectual property protection with over 40 digital and innovation development projects in agricultural, medical industries granted patents and petty patents to protect their intellectual property," said the president and CEO of depa.
Thailand Digital IP Forum 2023 features a number of Thailand's respected academics and leading experts in intellectual property. They shared knowledge and perspectives on intellectual property via a range of thought-provoking topics such as the efficient ways for digital entrepreneurs to apply for digital patents and petty patents and not-so-secret tips on accomplishing the success of tech enterprises that received support measures and incentives as part of the "depa Intellectual Property Voucher". Other interesting topics during the forum included the correlation of intellectual property and development of the gaming industry; and Opportunities and challenges in raising funds from intellectual property. The forum wrapped up with a seminar titled intellectual property management with a case study on trademark utilization on the Metaverse platform.
In addition, an IP advisory service was also provided by the depa, relevant state agencies and legal consulting firms in order to facilitate patent applications for the protection of digital technologies and innovations developed by Thai tech companies. The aim is to address key issues associated with digital patent and petty patent filings. For more information and the latest updates on depa's digital-inspired development projects, visit www.depa.or.th or contact depa Thailand Facebook page.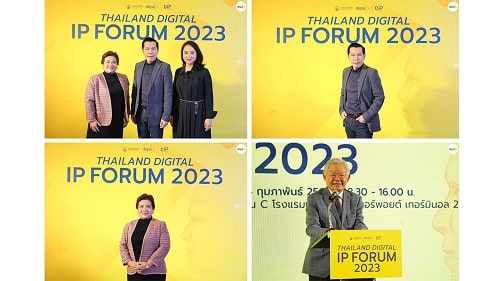 ข่าวประชาสัมพันธ์ถูกโพสต์ หรือเขียนขึ้นโดยเจ้าของข่าว ถูกโพสโดยบุคคลทั่วไป ในชื่อ: บริษัท ทริปเปิล เอท ไอเดียส์ จำกัด
ทางเวปไม่มีส่วนเกี่ยวข้องกับการเขียนข่าวหรือโพสต์ข่าวประชาสัมพันธ์ฉบับนี้ เว็บเป็นเพียงสื่อกลาง ที่เปิดให้เจ้าของข่าวประชาสัมพันธ์หรือตัวแทนโดยชอบธรรมได้โพสต์ด้วยตัวเอง