​Small Luxury Hotels of the World has announced the top 15 of the World's Most Beautiful Luxury Villas in which Cape Kudu Hotel, Koh Yao Noi, has been honoured at No.9 for its "Baan Yu Yen". This home-away-from-home sea & sunrise view holiday villa affords breathtakingly beautiful panoramic views of Phang Nga Bay.
Welcome to your independent holiday home covering a total of 1,315 square metres. Baan Yu Yen is wonderfully modern in design and outstandingly appointed in superb taste. The two spacious bedrooms are separated by an open terrace and each features a capacious luxury bathroom with a rain shower. There are two large, exclusive pools set in the restful green of an independent garden and the fully-fitted European-style kitchen is graced by an impressive wooden refectory table. In addition to this high level of comfort and luxury there are many more special privileges available to you to provide you with complete relaxation and an opportunity for you to recharge life's batteries.
Cape Kudu Hotel, Koh Yao Noi and its sister property on Koh Samui, Cape Fahn Hotel Private Islands, were both nominated in the category 'The Most Beautiful Beachfront Hotels in Thailand' by Small Luxury Hotels of the World. Both these properties offer glorious views across the sparkling sea and, in the case of Cape Kudu Hotel, a fascinating panorama of little forest-draped karst islets standing firm in the turquoise waters of Phang Nga Bay. Cape Fahn Hotel is bathed in the glory of the tropical sun from dawn to dusk with crystal-clear water washing the fine sand beach. The view from the summit restaurant at sunset is highlighted by the glittering lights of the fishing boats setting out on their night's work.
Ms.Tirawan Taechaubol, the owner and Group's Project Development Manager of Cape & Kantary Hotels said, "Once again we are very humbled by this honour bestowed on us, being ranked among 'The World's Most Beautiful Villas' and 'The Most Beautiful Beachfront Hotels in Thailand'. We eagerly express our gratitude to 'Small Luxury Hotels of the World' for their confidence in us and their support in allowing us to acquire this accolade. The pride and deep sense of achievement must be shared, though, by the management and every member of staff of these hotels for their unstinting efforts in providing the highest level of service that goes with the benefits of nature to make every individual guest's holiday experience both exceptional and memorable."
For more information or reservations, please visit hotels' websites:
Cape Kudu Hotel, Koh Yao Noi: https://www.capekuduhotel.com/
Cape Fahn Hotel, Koh Samui: https://www.capefahnhotel.com/
############
Reference Links:
-15 of the world's most beautiful luxury villas
https://journal.slh.com/journal/private-villa-collection/
-The most beautiful beachfront hotels in Thailand
https://journal.slh.com/journal/best-beach-hotels-in-thailand/
Cape Kudu Hotel, Koh Yao Noi, cradled on a small island in the centre of Phang Nga Bay, rewards you with 56 luxurious rooms where you will enjoy experiencing both the vibrant culture of the local community and exciting outdoor activities among beauty of the nature. Cape Fahn Hotel, Private Islands, Koh Samui, features 22 pool villas nestling on two little private islands set like jewels in the azure waters of the Gulf of Thailand, and the home of the renowned restaurant, "Long Dtai", under the expert guidance of Michelin-starred chef David Thompson, a world authority on Southern Thai cuisine.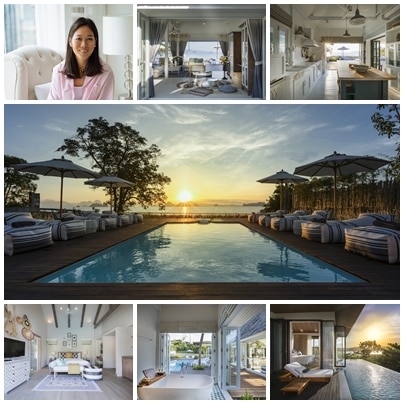 ข่าวประชาสัมพันธ์ถูกโพสต์ หรือเขียนขึ้นโดยเจ้าของข่าว ถูกโพสโดยบุคคลทั่วไป ในชื่อ: Cape & Kantary Hotels
ทางเวปไม่มีส่วนเกี่ยวข้องกับการเขียนข่าวหรือโพสต์ข่าวประชาสัมพันธ์ฉบับนี้ เว็บเป็นเพียงสื่อกลาง ที่เปิดให้เจ้าของข่าวประชาสัมพันธ์หรือตัวแทนโดยชอบธรรมได้โพสต์ด้วยตัวเอง