From the great result of last time the first NFT sale on September 8th which made a record of selling out all NFTs in just 19 minutes.This time, Eclipse Quest, a new hot NFT game is announcing its second round of NFT sale via Freecity. For those who missed the first round, get ready for the second round at https://app.freecity.finance/ on 17 October!
Introducing Eclipse Quest the new NFT game
"Eclipse Quest" is the work of the team behind the development of such quality Action Battle Royale title like Ragnarok: Battle Academy (ROBA) whereas the team has put their GAMER heart at the game's core.
Eclipse Quest is a web-based Dungeon Crawler Action-Adventure game empowered with stylish NFT, adventuring into the world of dungeon fantasy.
5 reasons that will make you love Eclipse Quest
1. NFTs sold out in 19 minutes on the first round sale
Eclipse Quest opened their first round "Summoning Book" sale on 8 September and sold out in only 19-minutes on Freecity, and closed at $110 as a floor price. The summoned character can be used in mining to receive different rewards.
2. Action-Adventure is in the Top 3 most popular genre game
Eclipse Quest is an Action-Adventure game which is a TOP 3 game genre loved by people of all ages. It is also classified as a Dungeon Crawler game, which is currently becoming popular as we can see from Diablo Immortal, Hades and Path of Exile. Awaiting various challenges and obstacles at each step into the dungeon. Get ready for the next adventure!
3. 3 concepts of fun elements
Although the game mainly focuses on the fun of the players. But it also takes advantage of Blockchain to facilitate players to trade more freely and safely.
In addition, Eclipse Quest offers to connect the world of games and NFT through the use of Blockchain technology, allowing all independent artists, NFT COMMUNITY or other games to join under the concepts of Fun to Play, Fun to Collect and Fun to Earn.
4. Demo version is now available
The demo game is now available along with various activities for NFT holders. Free users don't be sad! There is still an activity to collect points in the community to get the right to play the demo limited to 20 players. You can join the activities at Discord channel https://discord.gg/qDUCHEclipse QuestxSU
5. Reinforcing with Partners
Eclipse Quest now has partnered with Morning Moon Village and Stocker Dao to create a better experience by connecting different worlds to Eclipse Quest, and still many more partners are on their way to join in to make the project stronger and better.
Get ready at 8 P.M. October 17 at ! All 502 NFTs are waiting for you at https://app.freecity.finance
For those who are interested in Eclipse Quest, don't miss it.
NFT Game Teaser : Eclipse Quest l First Look [YouTube LINK]
Channels
● Facebook: https://www.facebook.com/EclipseQuest.BugblioStudio/
● Discord: https://discord.gg/WgxXqR59qx
● Instagram: https://www.instagram.com/eclipsequest_game/
● Telegram: https://t.me/eclipsequest
● Twitter: https://twitter.com/Eclipse_Quest
● Website: https://www.eclipsequest.bugbliostudio.com/
● Whitepaper: https://doc.clickup.com/…/d/h/rdz7j-1402/11de297c0892786
"Eclipse Quest (EQ)" information
● Developer: BugBlio Studio
● Genre: NFT Dungeon Crawler Action-Adventure
● NFT Sale: 17 October 2022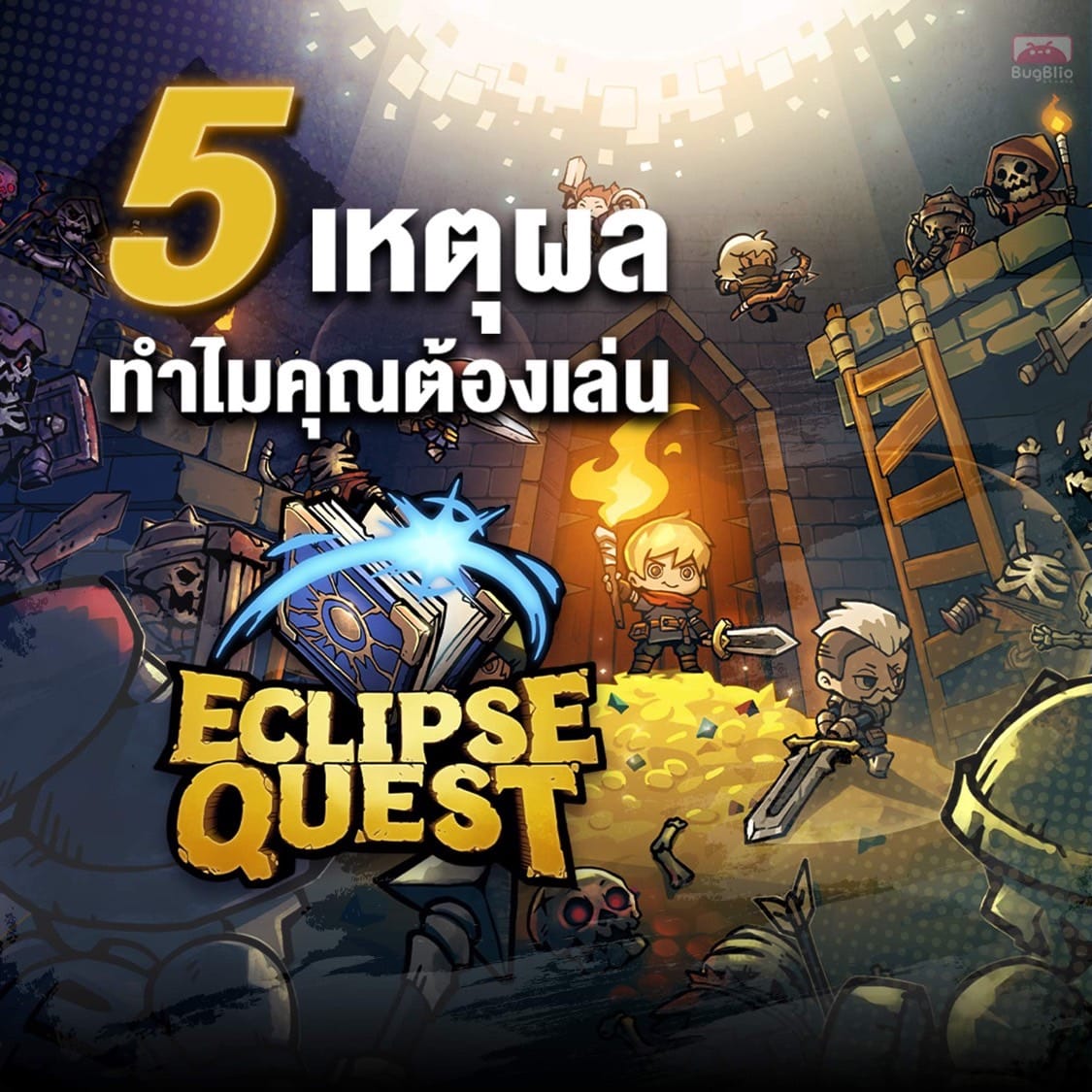 ข่าวประชาสัมพันธ์ถูกโพสต์ หรือเขียนขึ้นโดยเจ้าของข่าว ถูกโพสโดยบุคคลทั่วไป ในชื่อ: PR_888
ทางเวปไม่มีส่วนเกี่ยวข้องกับการเขียนข่าวหรือโพสต์ข่าวประชาสัมพันธ์ฉบับนี้ เว็บเป็นเพียงสื่อกลาง ที่เปิดให้เจ้าของข่าวประชาสัมพันธ์หรือตัวแทนโดยชอบธรรมได้โพสต์ด้วยตัวเอง