AUTOPAIR, a platform provider company, offering an online auto-parts ordering and a workshop management system for automotive aftermarket industry, moving forward into the 5th year, revealing the overview of business success in Thailand, and announcing $2m fund raising from giant Japanese company, Mitsubishi Corporation. This funding will be used to expand new customer base and strengthen business capabilities such as UI/UX of the system. In 2025, AUTOPAIR aims to acquire 1% of the total automotive aftermarket industry's market share, generating an annual revenue up to 2,000 million baht, and becoming the market leader in an Automotive Aftermarket solution provider in Thailand.
Mr. Santi Vajanapanich, Executive Chairman of AUTOPAIR Co., Ltd., said, "Currently, Thailand is in the transition to a fully digital economy. This is evident from the adoption of technology and digital systems to enhance business competitiveness. We, as an Automotive Aftermarket's service provider saw a huge business opportunity. By taking part in filling in the traditional, and fragmented industry, it can pass through the wall of the digitization completely. We intend to develop the business along with providing a new experience for users to be more comfortable and faster in buying and selling spare parts. Currently, AUTOPAIR has a network of auto-workshops that use the system approximately 200 locations nationwide. We are now ready to continue to bring the service to the target group and auto-workshops across the country."
The total market value of the Automotive Aftermarket industry worth annually up to 306,145 million baht, with an average growth rate of about 6.9 percent per year as car users choose to extend the period of using their existing cars instead of buying a new one to save money. In the total market value, it is divided into spare parts cost approximately 200,000 million baht and service fee 100,000 million baht. Presently, AUTOPAIR has an annual revenue of more than 100 million baht, with an average growth rate of 385% per year. The company received Seed Round funding from KK Fund, a Venture Capital from Singapore, and Pre-Series A from Summit Auto Body Industry Co., Ltd., Thailand's largest auto parts manufacturer. The fund-raised helps AUTOPAIR to grow its customer with a target of approximately 1,000 independent auto-workshops to digitize their work processes through a fully integrated workshop management system. With another Series A funding from Mitsubishi Corporation, a world-class conglomerate company, AUTOPAIR aims to secure a market share of 1% of the total market value of Automotive Aftermarket industry, which equivalent to an annual revenue of 2,000 million baht in the next 2 years.
AUTOPAIR provides a total solution for all players in the Automotive Aftermarket industry via 3 main systems as follows:
Urgent auto-part ordering system for local auto-part retails and workshops (AutoTrade). The workshops can manage urgent auto-part much more transparent, and convenient. We provide more than 50,000 products in the system, supporting more than 20 brands, 400 sub-models of vehicles, and most importantly, the products will be delivered within 60 minutes throughout 29 provinces nationwide without any day-off. With the assist of AI, we are able to deliver more than 100,000 items with a delivery accuracy up to 99%. On the other hand, the local auto-part retails can increase their monthly revenue more than 100,000 baht by accepting orders via this system. Currently, most modern-trade workshops in Thailand are using this system to manage all urgent auto-part categories, and to help them expand the businesses much faster such as Fit Auto, Cockpit, Auto1 and Autobacs.
Workshop management system integrated with online auto-part marketplace (AutoHero) for independent workshops who have never used any system before. This system can be used to record repair work, collect customer information including ordering auto-parts from the online auto-part marketplace at upstream prices. With our online auto-part marketplace, the workshops can reduce cost of goods sold by not having to buy large quantities but will still receive a wholesale price. Lately, the online auto-part not only covers 85% of auto-part for all passenger cars in the country, but also covers more than 10,000 of tires variation, allowing the workshops to be able to accommodate all types of customers without having to worry about sourcing for any kind of parts. The system is designed to be user-friendly, without any obligation as well as compatible for computers, tablets, and mobile phones with a starting price at only 799 baht per month.
Warehouse management system (AutoExpress) is a system that facilitates both online and offline trading for distributor, and manufacturer. In terms of warehousing, fulfilling, and shipping, AUTOPAIR helps sellers who don't have enough time to pack and ship orders by themselves when there are large sales volumes. The system can also be connected via API between the warehouse and the online auto-parts marketplace to increase sales opportunities for new customers. AUTOPAIR, recently, contain 3 service warehouse locations covering Bangkok and its vicinities, and aim to expand to 10 more locations warehouses in various provinces by 2024
"AUTOPAIR is committed to developing various systems in the future to support and digitize a variety of work in the entire ecosystem from upstream to downstream. We don't have a policy to create our own auto-parts store because we intend to assist everyone in the industry to work more easily and conveniently. We seek for a collaboration, not a competition in order to thrive through the digital disruption era altogether." Mr. Santi concluded.
For more information on AUTOPAIR services, visit www.autopair.co or contact Tel: 02 219 1600 or LINE Official: @helloautopair and Facebook.com/autopair.co for more details.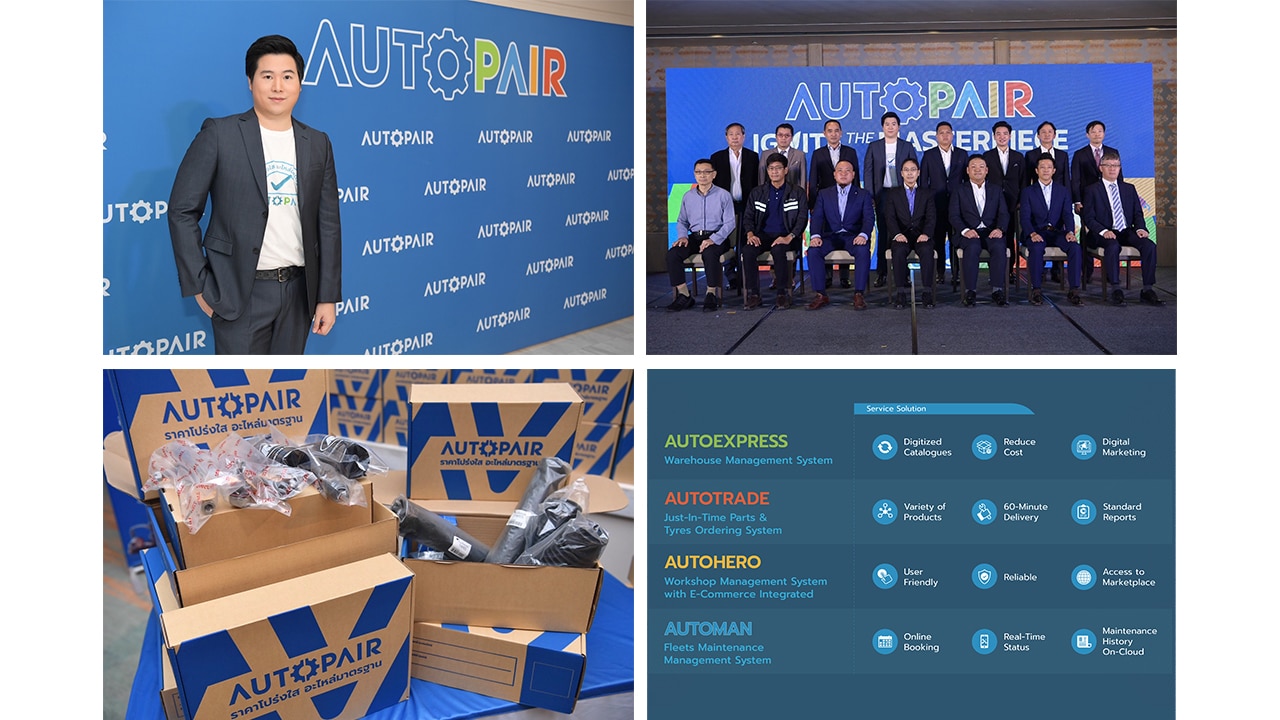 ข่าวประชาสัมพันธ์ถูกโพสต์ หรือเขียนขึ้นโดยเจ้าของข่าว ถูกโพสโดยบุคคลทั่วไป ในชื่อ: PR Admin
ทางเวปไม่มีส่วนเกี่ยวข้องกับการเขียนข่าวหรือโพสต์ข่าวประชาสัมพันธ์ฉบับนี้ เว็บเป็นเพียงสื่อกลาง ที่เปิดให้เจ้าของข่าวประชาสัมพันธ์หรือตัวแทนโดยชอบธรรมได้โพสต์ด้วยตัวเอง