No. 43 Italian Bistro Restaurant, Cape House Hotel, Bangkok is proud to present once more its famed Truffle & Mushroom Promotion. Our chef selects the best ingredients to create a special delicious menu with the delicate flavours of these wonderful fungi, bursting with healthy vitamins and minerals, to savour and enjoy in the "Truffle & Mushroom Promotion". Try Veal Scaloppina with Parma Ham, Asiago Cheese and Sage with Sautéed Porcini and Shaving of Black Truffles (990++ Baht); Pennette Pancetta and Champignons in Light Spicy Tomato Sauce (520++ Baht); Sauteed White Fettuccini with Porcini Mushrooms in "AOP" (garlic, olive oil) (550++ Baht); Risotto Black Truffle, Chanterelle and Grilled Italian Sausage with Shavings of Manchego Cheese (720++ Baht); Home Made Linguini with Butter and White Truffles (1,250++ Baht); Sticky Toffee Pudding & Toffee Sauce Served with Banana Gelato (420++ Baht); and many more delicious dishes from 06.00-24.00 hrs. during 23-30 October 2022 only.
Buffet lovers should not miss Bangkok's best value Buffet Lunch, every Wednesday and Sunday (11.00-14.00 hrs.) available from now until 30 December 2022. A variety of European and Thai food and desserts with a different speciality each day to complement the fantastic range of dishes available: only 540 Baht net per person.
For reservations or more information, please contact Cape House, Bangkok on Tel: 02-658-7444 ext. 285 or visit our website at: www.capecollection.com
* The Hotel reserves the right to amend or cancel promotions without prior notice.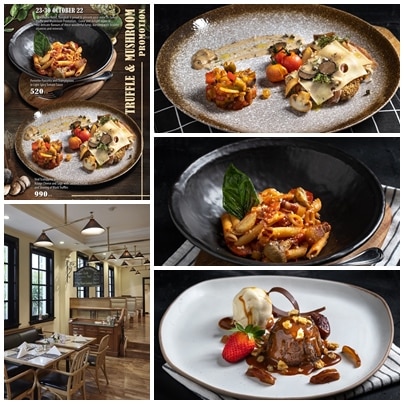 ข่าวประชาสัมพันธ์ถูกโพสต์ หรือเขียนขึ้นโดยเจ้าของข่าว ถูกโพสโดยบุคคลทั่วไป ในชื่อ: Cape & Kantary Hotels
ทางเวปไม่มีส่วนเกี่ยวข้องกับการเขียนข่าวหรือโพสต์ข่าวประชาสัมพันธ์ฉบับนี้ เว็บเป็นเพียงสื่อกลาง ที่เปิดให้เจ้าของข่าวประชาสัมพันธ์หรือตัวแทนโดยชอบธรรมได้โพสต์ด้วยตัวเอง