สินค้าแนะนำ:
ยกขบวนช้อปโปรปัง ลดราคาสินค้า

Flash Sale ประจำวันนี้ เริ่มต้นที่ 3 บาท
2 รอบต่อวัน 00:00น. | 12:00น.
ดูสินค้าลดราคา : http://bit.ly/JDFlasHSale
Note ไว้สำหรับตัวเอง เผื่ออนาคตลืม หรือเจอปัญหาแบบนี้อีก
Message subject: Error during automated certificate renewal for xxxx.com
Error: http://xxxxx.com/.well-known/acme-challenge/letsencrypt_1593558941 is not reachable. Aborting the script.
dig output for xxxx.com:
27.254.xx.xx
Please make sure .htaccess or WWW server is not preventing access to /.well-known folder.
<br>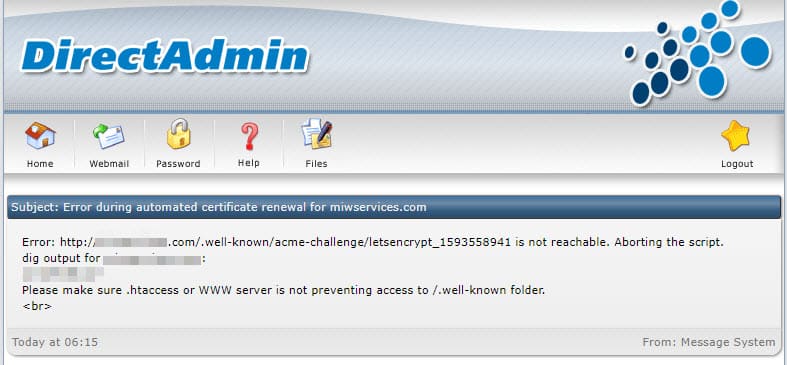 เกิดจาก
มีการตั้งค่า Redirect ที่ .htaccess ใน public_html
วิธีแก้ไข
ปิด .htaccess และ Gen SSL Let's Encrypt ใหม่
สินค้าแนะนำ:
LG แอลจี ตู้เย็น 2 ประตู ระบบ Inverter 14.2คิว รุ่น GN-B422SQCL ประหยัดพลังงาน กระจายลมเย็น คงความสดอาหาร

 

ลดเหลือ 10,790.-

จากปกติ 15,990.- ผ่อน 0% นาน 10 เดือน ส่งฟรี !!
สั่งซื้อ: http://j.mp/3ehIzst